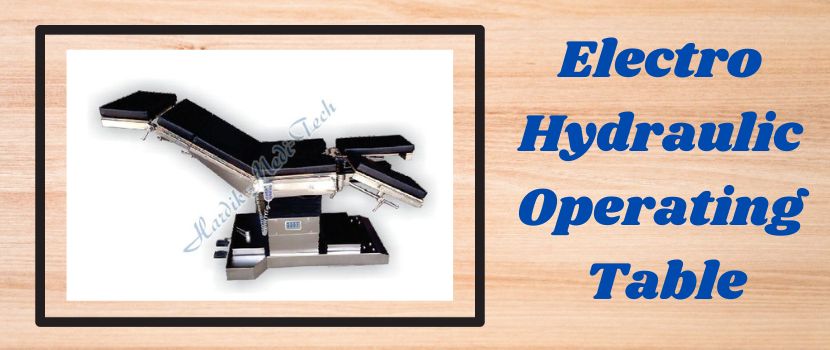 Surgical operations are now more complicated and accurate than ever before due to the dynamic nature of contemporary medicine. The ability of the surgical team and the tools they employ are both essential for the outcome of these operations.
The Electro Hydraulic Operating Table has transformed how surgeries are carried out by providing improved control and comfort. This table by Electro Hydraulic Operating Table Suppliers is one such essential piece of technology.
What an Electro Hydraulic Operating Table Is All About?
A sophisticated medical tool called an electro-hydraulic operating table is created to offer the best positioning and stability during surgeries. These operating tables use hydraulic and electric systems for quick and accurate placement.In contrast to traditional operating tables, which rely on human adjustments.
Precision Surgery Requires Precise Positioning
The Electro-Hydraulic Operating Table's capacity to ensure exact patient placement is one of its most important benefits. The electro-hydraulic control system allows surgeons to easily change the table's height, tilt, lateral tilt, and Trendelenburg/reverse Trendelenburg positions. This accuracy lowers the possibility of difficulties during the treatment and provides for better access to the surgical site.
More Effective Surgical Control
With unmatched control over patient placement thanks to the Electro-Hydraulic Operating Table, doctors can better see the operative region. The capacity to precisely adjust the patient's posture is essential for obtaining the best surgical results. It doesn't matter whether one is doing delicate neurosurgery or a challenging cardiac treatment.
Increased Patient Comfort
The Table by Electro Hydraulic Operating Table Suppliers places patient comfort above its advantages for surgeons. For patients undergoing protracted treatments, its ergonomic form and cushioning materials offer a pleasant and supporting surface. In addition to enhancing the patient experience, this lowers the danger of problems brought on by extended immobility.
Enhanced Workflow Effectiveness
Operating room efficiency is crucial, and electro-hydraulic operating tables considerably improve surgical processes. Quick and accurate adjustments save time on positioning, allowing surgical teams to concentrate their efforts on the actual process. Due to its effectiveness, patients may have less anaesthesia during their procedures and recover more quickly.
Customization And Safety Features
In surgical settings, safety is of the utmost importance, and electro-hydraulic operating tables are furnished with several safety measures. These include collision sensors to avoid unintentional accidents when moving the table and backup battery systems to guarantee continuous operation.
Flexible Surgical Specialties
Electro-Hydraulic Operating Tables may be customised to fit a variety of surgical specialities because of their versatility. These tables may be set up to satisfy the particular needs of each surgical field.It ranges from gynaecological operations that involve exact angles to orthopaedic surgeries that demand accurate placement of the limbs.
Upcoming Developments and Integration
Electro-hydraulic operating tables are projected to become much more sophisticated and integrated with other surgical tools as technology develops. Integration with imaging equipment like C-arms or MRI scanners might improve accuracy and visualisation even further when performing treatments. The creation of more user-friendly control interfaces may make it easier for both seasoned and inexperienced surgeons to operate these tables.
Conclusion
Precision and effectiveness are crucial to success in the field of contemporary surgery. The Electro Hydraulic Operating Table is a shining example of modern medicine, giving surgeons unmatched control and improving patient comfort. These tables will become more and more important as technology advances. This will help to shape how surgeries are performed in the future and eventually improve patient care and surgical results.