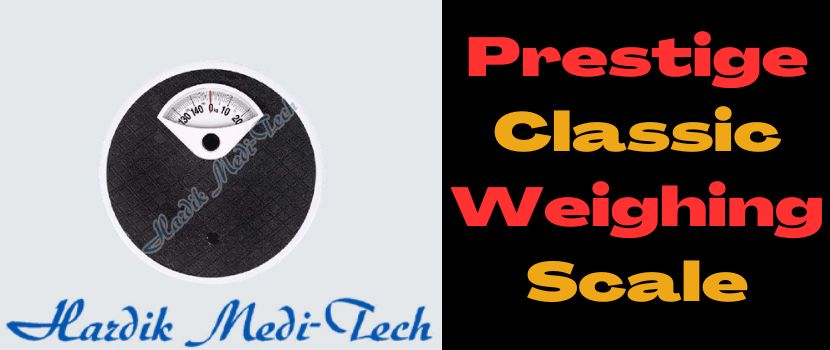 Prestige Classic Weighing Scale is perfect to calculate human weight and other goods.
Physical fitness is called the condition of being physically healthy, particularly in terms of proper nutrition and regular exercise. Mental stability and physical health are required for complete wellness and overall health. Physical fitness is not linked to the lean body instead it is about cardiovascular endurance, strong resistance, and a healthy mind. Human health and fitness are one of the most precious assets. Weight management is quite important for physical fitness. No doubt, the weighing machine is considered an essential tool for the weight management journey.
Prestige Classic Weighing Scale is aimed to give the right results. It helps find out the mass and heaviness of any object. It can be widely used for domestic and commercial usage as well. It is an important device that assists you to calculate the objects in the right way. The use of the tool in different kinds of workplaces can save money as well as time as well. The versatility and accuracy of the machine are rather helpful in the business and home.
Usage of the Weighing Scale in Day To Day Life
If you are on a plan for weight loss, you should begin your journey by measuring your weight before you begin dieting. Calculating on regular basis is vital for keeping an acceptable mass that you are pleased with. The prime idea of a bathroom weighing scale is to preserve your fitness and health. Health experts as well as dieticians require an individual mass to calculate the body mass index (BMI).
The BMI of a person is used to find out if the person is over or under or weight. The tool gives you the right calculation of the mass of the body. However, to burn out more calories, a healthy diet, and regular workout is essential. Apart from a balanced diet and regular exercise, you have to calculate yourself regularly.
Helps you to set targets
Before you begin the weight loss program, it is quite essential to initially understand your stand. A weighing scale will assist you in understanding the present status and setting a target as per the requirements.
Promises for Great Motivation
Regularly checking your weight with a prestige classic weighing scale helps you to know how and how much you are losing. The loss of weight when shown on a weighing scale heightens your spirits. At the same time, it motivates me to do better. No issue, even if simply a little is lost, it still inspires you from within to lose even more.
These machines are designed with great perfection by using top-grade raw materials. They are broadly in demand in the textile industry, retail shops, and Milk dairy. The buyers can even use them for domestic ideas for weighing purposes. They are high in demand for their compact design, least power use, best performance, and accurately engineered specifications. You can place your order easily online to grab the top benefits.